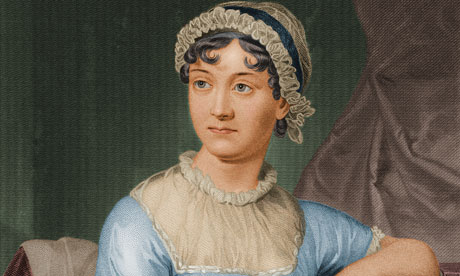 Jane Austen
was born on December, 16, 1775 in at the rectory in the village of Steventon, near Basingstoke, in Hampshire. England. Her

parents were well-respected community members. Her father served as the Oxford-educated rector for a nearby Anglican parish. The family was close and the children grew up

in an environment that stressed learning and creative thinking. When Jane was young, she and her siblings were encouraged to read from their father's extensive library. The children also wrote and put on plays.
Increasingly fascinated by the world of stories, Jane began to write in bound notebooks. In the 1790s she started to craft her own novels and wrote Love and Freindship [sic], a parody of romantic fiction, organized as a series of love letters, in which she revealed her wit and dislike of sensibility, or romantic hysteria, a distinct perspective that would eventually characterize her novels.
Jane spent much of her early adulthood helping run the family home, playing piano, attending church, and socializing with neighbours. She continued to write, developing her style in more ambitious works such as

Lady Susan, another epistolary story about an
unscrupulous
woman who uses her sexuality, intelligence and
seductiveness
to have her way with others. Jane also started to write some of her future major works, the first called Elinor and Marianne which would finally be published as

Sense and Sensibility. She began drafts of

First Impressions, which would later be published as

Pride and Prejudice,
In the period spanning 1811-1816, she revised

Sense and Sensibility

and

Pride and Prejudice

and published them (in 1811 and 1813) and then embarked on a period of intense productivity.

Mansfield Park

came out in 1814, followed by

Emma

in 1816 and she completed

Persuasion, which was published together with

Northanger Abbey

in 1818, the year after her death. None of the books published in her life-time had her name on them - they were described as being written "By a Lady".
In 1816, Jane started to become ill with what some say might have been Addison's disease, a tubercular disease of the kidneys. Even so, she continued working at a normal pace, editing older works as well as starting a new novel called

The Brothers, which would be published after her death as

Sandition.
At some point, Jane's condition worsened to such a degree that she ceased writing.
Tragically, there was then no cure and Jane Austen died on 18 July, 1817. She was 41 years old.
While not widely known in her own time, Jane Austen's novels gained popularity after her death, when her brother Henry revealed to the public that she was an author.
Today, Jane Austen is considered one of the greatest writers in English
literature , both by academics and the general public; she excels in portraying female characters from the middle class to which she belonged; her brilliantly witty, elegantly structured novels of manners are considered literary classics and mark the transition from 18th century Neoclassicism to 19th century Romanticism.
To celebrate Jane Austen's birthday, let's watch some videos from one the best TV adaptations of her novels, Persuasion - it is the tale of a young woman, Anne Elliot, who is persuaded from marrying the Naval officer of her heart. It is now almost nine years since she rejected him. Fredrick Wentworth is now a rich and highly eligible sea captain and the two are curiously thrown together. Will their forgotten affection blossom again? Or has the captain found another?
Here you can read Persuasion ... with your favourite cup of tea!