A Room with a View

is a 1908 novel by English writer

E. M. Forster, about a young woman in the repressed culture of Edwardian era England. Set in Italy and England, the story is both a romance and a critique of English society at the beginning of the 20th century.
In 1998, the Modern Library

ranked

A Room with a View

79th on its list of the

100 best English-language novels of the 20th century

.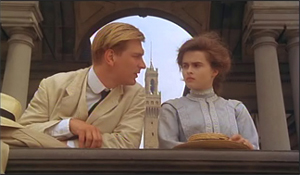 A Room with a View is also a 1985 British
drama film

directed by

James Ivory

and produced by

Ismail Merchant

. The film is a close adaptation of
E. M. Forster
's
novel
and even uses his chapter titles to divide the film into sections. It stars
Maggie Smith as "Charlotte Bartlett", Helena Bonham Carter as "Lucy Honeychurch", Judi Dench as "Eleanor Lavish", Julian Sands as "George Emerson," Daniel Day-Lewis as "Cecil Vyse" and Simon Callow as "The Reverend Mr. Beebe".